Jennifer Lynn, DVM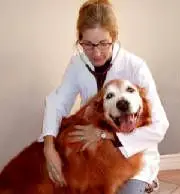 Dr. Jennifer Lynn is a 1986 graduate of the Colorado State University College Of Veterinary Medicine.
Dr. Lynn has practiced in Southern California for 24 years, with the last 16 focusing exclusively on Veterinary Dentistry.
Dr. Lynn lives in the San Gabriel Valley with her husband and son. She is owned by a multitude of pets, including Chase (Golden Retriever - Practice Mascot), Lily (Labrador retriever from the Pasadena SPCA), Kiki (rescue Kitty from the SPCA), Depot & Horace (parakeets) and Steve (Betta Fish).
She'd probably have a pony in the backyard if zoning permitted.
---
Chase, Mascot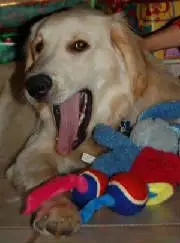 Chase is an 11-year old Golden Retriever.
Chase came to us from a Golden Retriever rescue group. Despite having had a disadvantaged puppy-hood, Chase has become quite a distinguished Golden and often receives compliments for his handsome coat and beautiful tail. Note, please, his beautiful smile!
Chase's primary role at AVD is to welcome new patients. His work objective is to get more petting, particularly behind his right ear.